With younger generations going to parties or events almost three times a week, it's no surprise that Americans like to party. But there's no reason for the party to stop as you're traveling from one destination to the next. Party buses keep the party going while you're being chauffeured to your next bar or locale.
Before you board your party bus, prepare a few essential things to bring to make the most of your event and accommodate all of your group's needs.
Drinks to Bring on a Party Bus
Drinks make any party, whether you're trying to stay hydrated or looking to share a round of shots with your friends. Consider what drinks are popular choices in your group and whether you can stock each on the party bus. There are also some options you can choose that most people will be happy to have.
Beer: There is a culture around beer that has kept it a popular choice for generations. Almost every bar serves beer, and you'd be hard-pressed to find a party without it. You can go with a famous brand, like Budweiser, or you can choose something like a local IPA to make the experience unique. Beer will also keep you from getting intoxicated too quickly. You'll be on the party bus for a while, and you don't want to get too far ahead before the party has even started.
Wine: Like beer, there's a culture around wine and an air of sophistication that makes it an exceptional choice, whether you're headed to a bar or taking part in a wine tour. You can pick a brand that's a little more common, or you can test the group's tastebuds with something a little more elevated. It might be a good idea to pick a white wine over a red to limit the chances of staining your clothes.
Liquor: Liquor is a staple to any party, and you can choose from many types and brands. Partiers drink more vodka than any other spirit, and it's perfect if you want to start the night off strong. Whiskey is another popular choice in many states, so consider bringing some on your party bus. You can also include gin, rum and plenty of mixers so your group can make some fantastic mixed drinks. Since spirits are stronger than beer and wine, take it slow and drink responsibly.
Water and Juice: Some members of your group may not be big alcohol drinkers and would appreciate an alternative. It's also a good idea to have water on hand to drink between alcoholic beverages to reduce the symptoms of a hangover the next day. If someone drinks too much too fast and feels that they might be getting sick, have water readily available for them.
Food to Bring on a Party Bus
If you're drinking alcohol, supplement it with some party bus snacks. It's also good to have some snacks on hand while you're traveling between locations. Popular party bus food ideas include:
Trail mix: You can buy trail mix or make your own by combining some of your favorite snacks, like raisins, pretzels, small chocolates, fruits, nuts and granola.
Cheese: Cheese is easy to snack on, and there are multiple variations to choose from, such as cheddar, pepper jack, colby jack and mozzarella.
Sliced meats: Pepperoni, salami, turkey and ham slices go well with cheese and provide that little extra boost of protein to keep you energized throughout the day.
Fruits and veggies: These make for a healthy snack, and you can cut them into bite-sized pieces. They're also great options for group members with dietary restrictions, such as those who are lactose intolerant, vegetarian or vegan.
Energy bars: You're going to be spending a lot of energy partying at each new location. Energy bars are an ideal option to maintain your vigor and keep the party going.

It's probably best to stick to finger food since you'll be in a moving vehicle, and it's simple to eat and easy to make. You also won't have to clean up a huge mess, and you'll save plenty of room for a bigger meal at your destination. You can make the experience a little more sophisticated and combine some of these ideas to create your very own charcuterie board. The options are endless, but make sure to check with your group to determine if anyone has a food allergy you need to accommodate.
Party Supplies
Food and drink are important, but there are other things to make a party. Party buses have their iconic flair and flamboyance, but you can add your personal touch. Some people come prepared with a theme and bring decorations and party favors to enhance the experience. Bachelor or bachelorette parties are an excellent opportunity to throw a theme into the mix. Themes bring opportunities for fun, such as dressing up in extravagant costumes or making personalized t-shirts that your group can keep as a party favor.
It's also fun to bring confetti and party poppers to build on the excitement. No matter what you're going for, these items will bring your event to the next level. Just remember that you'll have to clear and clean the decorations at the end of the night, so only decorate with what you're prepared to clean up.
You'll also want to bring materials to hang your decorations with, such as tape and scissors. Bringing pen and paper is always a good idea too because you'll never know when you need to write something down.
If you plan on bringing drinks onto the party bus, have a cooler filled with ice so you can serve your drinks chilled. Disposable cups, plates and utensils are thoughtful additions because they're easy to clean, and you don't risk breaking a plate while the bus is in motion.
After the party is over, you'll need to have materials on hand to clean everything up, including paper towels, trash bags, wet wipes and other items you can use to clean any spills and collect leftover trash.
The Ultimate Playlist
Music is an essential tool to perfect any party. You can pick from a curated playlist with the most popular party songs throughout the decades, or you can create your own! Talk with your group and see what music they'd like to include in the playlist. Adding a personal touch helps ensure there's something for everyone.
If you plan on streaming your party playlist from your phone, be sure to check ahead with your party bus service to determine how you can connect your phone to their sound system.
Cash
No matter where you're going, you'll want to have some money on you. Many places charge an admissions fee, and you'll need to cover the costs for food and drinks at each stop. If you're headed to a landmark or on a beer and wine tour, there may be a gift shop or local stores nearby where you can pick up souvenirs to help you cherish these moments.
At the end of your trip, you can also tip the driver if you feel that they've done an excellent job. This is not a requirement and is up to your discretion, but chauffers greatly appreciate it!
Personal Items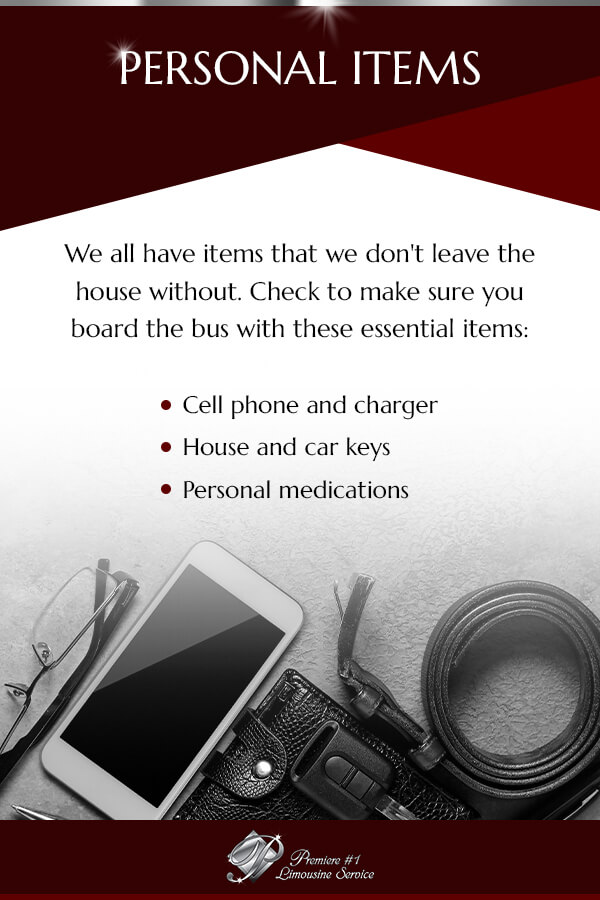 We all have items that we don't leave the house without, and these should follow you onto the party bus so you have everything you might need. Check to make sure you board the bus with these essential items:
Cell phone and charger: You'll want to stay connected to record and share your exciting moments aboard the party bus. Bring a charger to make sure your phone has enough battery. It's also a good idea to keep your phone on you and charged in case you need to make a phone call or get separated from the group and need to find your way back.
House and car keys: Check at the start of the party to make sure your keys are in your pocket or bag. Place them in a secure area on the party bus or give them to a trusted friend if you think you're going to have a hard time keeping track of them.
Personal medications: Some of us have to take medications at certain times of the day. Know when you're going to be on the party bus so you can plan to bring the proper medication. You may also want to set reminders on your phone so you know when to take each dose.
Emergency Kit
It's always a good idea to plan for the unexpected. Even if an emergency doesn't happen, it's better to be prepared than be caught off guard. Bring an emergency kit with you that's stocked with all the necessities, such as:
A first-aid kit: Sometimes, a scrape or bruise will happen and having a first-aid kit will give you peace of mind. The American Red Cross has a great guide to building your own first aid kit. Be sure to take a headcount of your party and pack enough supplies.
A flashlight and extra batteries: Unexpected outages happen anytime, and you don't want to be caught in the dark. Using your phone's flashlight will waste its battery, so it's better to pack a portable flashlight and extra batteries that you can use to make your way around until the lights come back on.
Motion sickness medication: Party buses are always on the move, and some people get more nauseous in vehicles than others, especially if alcohol is involved. Keep some motion sickness medication on hand to accommodate your group's needs.
Feminine hygiene products: Life often catches us by surprise, and things happen sooner than we expected them to. Bringing feminine hygiene products is a kindness to your female group members who may have forgotten to bring their own. You can be discreet with this if you'd like by stashing these products in a personal bag or an inconspicuous container.
An Itinerary
Scheduling your party bus stops ensures that you and your group get to experience as many activities as possible. You'll want to plan to make stops at each destination, whether that's a landmark, shop or bar. Allow for a bit of flexibility to account for traffic and extra stops you might need to make.
Also, check to see if your party bus has a bathroom. If not, you'll want to account for bathroom breaks in your itinerary. These breaks will occur more frequently if members of your party are drinking alcohol.
A good rule of thumb is to plan to stop every half hour or so. You may not need to stop this frequently, but it will make it easier to stick to your plan, and you may end up running ahead of schedule.
Party Bus Games
No party is complete without some exciting games to play with the whole group! Some games require a surface to play on, so check with your party bus service to determine if there will be any tabletops available so you can choose your games accordingly.

You can go far with a deck of cards. A game like King's Cup only requires playing cards, something to drink and a small surface. Drinking games are ideal for an adult group aboard your party bus, especially while you're in-between travel to the next bar. Games like Head's Up are also popular because they can be downloaded on any smartphone and require no other materials.
Spice up the night with classic party games like Truth or Dare, Charades or Never Have I Ever. Plan to have your games ready to go before you board the bus so you can start having fun right away!
Other Things to Bring on a Party Bus
If you're going to be spending a lot of time walking, it's a good idea to bring an extra pair of comfortable shoes. This is especially important if you wear heels or similar shoes that can cause foot pain after extended periods. A comfortable change of clothes is also a good idea if a spill or accident happens or your first outfit becomes uncomfortable.
Finally, you should bring a camera if you don't plan on using the one on your smartphone. You'll want to document these memories so you can reminisce with friends about the fantastic trip you had. You can even bring an instant camera to capture the moment and share a physical representation of your memories with the group.
Keep the Party Going With Premiere #1 Limousine
You've gathered all the materials, and now you're ready to start your adventure! A party bus is an experience that you're sure to remember for the rest of your life. We can accommodate most requests at Premiere #1 Limousine, so your party is exactly what you dreamed it to be. We offer excellent service, simple booking and various technology and vehicle choices, all for an affordable price. Let us take the wheel so you can enjoy a night out on the town with the people you care about most.
Next time you're planning a party bus outing, consider Premiere #1 Limousine. Contact us for a free quote.