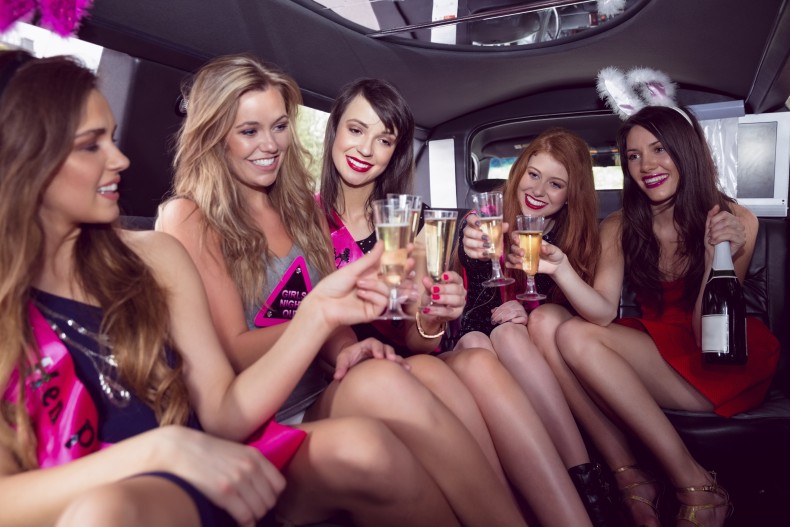 When it comes to your best friend, your goal is to throw her the bachelorette party of her dreams. You don't want a night that will turn into another bland outing — you want something creative and out-of-the-ordinary, something that everyone else isn't doing. After all, in some ways, the bachelorette party symbolizes the last hurrah a bride-to-be will have as a single woman.


There are very few things that haven't been done before, but that doesn't mean you're stuck with the same old social norms. If you think hard enough, there's no shortage of unique bachelorette party ideas! It all just depends on what kind of woman she is. Some girls love a day of pampering at the spa, while others prefer checking out local festivals. Team up with Premiere #1 Limo to make her bachelorette party something she'll never forget!
For the Traditional Girl
When you're bachelorette party planning, one of the easiest directions to go is the traditional route. This is for the girl who was putting together scrapbooks or Pinterest boards of wedding ideas before she ever met The One. This is for the girl who made dozens of checklists as soon as she got engaged so her big day would be picture-perfect. Give her a chance to unwind a bit while still soaking up those giddy, wedding day feelings.

Has she already gathered her something old, something new, something borrowed, and something blue? If she hasn't, have everyone rally together to help her decide on these ever-important items. If she has, incorporate each one into the party somehow. For instance, you could inject a lot of that same shade of blue into the decorations.
All-white parties have become a trend lately, referencing the traditional and elegant wedding dress. Everyone wears white attire, only white food and drinks are served and the venue is covered in white décor. If the bride-to-be is someone who likes to stand out, or you want to honor her upcoming ceremony, ask the guests to throw on their little black dresses, instead.
Any married friends in the group can offer up their sage advice, either in roundtable fashion or through a book compiled as a gift for the bride. You could ask her partner a handful of questions about their relationship and then quiz her at the bachelorette party to see how many answers she can get right. If you can tell her thoughts are already skipping ahead to the honeymoon, you could base the theme around her travel destination, especially if it's somewhere romantic and exciting like Paris or the Bahamas. She'll love all the attention and the significance paid to her impending nuptials.
For the Artsy Girl
Maybe the bride-to-be is an aspiring musician, a theatre buff or always holed up in a photography darkroom. Or maybe instead of creating art herself, she's interested in absorbing expression in all forms. When you're brainstorming ideas for a bachelorette party for this girl, any themes you pick should engage her mind and awaken her sense of wonder.

A lot of modern bachelorette parties feature a photo booth, but this girl might prefer a full-on photo shoot to commemorate the occasion. To really seal the deal, have the squad get gussied up for glamour shots. A couple of classic "girls' night" activities, such as going out dancing or singing karaoke, can be taken out and dusted off to liven up the party.
To upgrade her experience, you could schedule the party for a day her favorite band has a concert or a music festival comes to town. Have a few drinks and share some laughs at a comedy club, or keep it classy and seek out a piano bar in your city.
There are tons of ways you could enable the bride-to-be to get creative and crafty. You could book a private painting or pottery class, or have the gang coordinate going to a wine and paint night. Fragrance parties are a fairly new idea, but once you dive into the process of mixing a perfume, you'll see how fun, feminine and artsy it can be. On the other hand, if the woman of the hour just wants a casual night in, you could always stick with scrapbooking or DIY projects with a movie playing in the background.
For the Saucy Girl
When most people think of bachelorette parties, they think of obscene party games or an excess of phallic shapes. Some girls are too shy or modest to enjoy such things, while others have no problem getting in touch with their sexy side. If you're trying to come up with fun bachelorette party ideas, don't count out the naughty party!

There are many different ways you could go with this. For example, you could ask those invited to dress up like Playboy bunnies or put on their best pin-up outfits. Hosting a lingerie shower will give her lots of pretty things to unwrap, as well as something for her partner to look forward to on their wedding night. If the group is up for it, you could sign up for a belly dancing class, get a lesson on pole dancing or learn how to perform a strip tease or a lap dance. Everyone will get the chance to connect with their sensuality and hone their prowess in the bedroom.
Ever-popular ideas include visiting a strip club or watching a burlesque show. However, one unique idea that's made headlines recently is hiring a male nude model and having everyone draw him. It isn't quite as in-your-face, and you're able to have a drink or two while sketching, but it still offers a hint of sexiness. This is also good for an artsy girl who doesn't mind a naughty party.
You could even host a "Fifty Shades of Grey" or Harlequin romance-themed party. Take time to read some choice passages, put on a pleasure-focused playlist and consider hiring an instructor that will help you improve your techniques in the bedroom. Aside from your imagination, the only limit is the comfort level of the bride and her guests.
For the Foodie Girl
We all have that one friend who's entirely preoccupied with food. They may have a discerning palate for the finer things and a compulsive need to write Yelp reviews or they may be the first one asking where the refreshment table is at an event, but you always know what's on their mind. Many types of bachelorette parties involve food in some capacity, but there's a certain type of bride-to-be that will want it to be the main focus. Luckily, there are plenty of ways to put food front-and-center.

The simplest way to do this is to make a reservation at her favorite restaurant. Claim a row of tables for all attending or ask for a private dining space, if it's available. This also applies if she's more of a brunch person — there's nothing wrong with getting together to eat omelets and drink mimosas at a morning bachelorette party. If you really want to go all out, you could even consider hiring a professional chef to fix her a gourmet dinner she can savor in the comfort of her own home.
Pub crawls are enormously popular nowadays, but what about a dinner crawl or dessert crawl? Sample the best appetizers and entrées that your local eateries have to offer, or eat a light meal and then fill up on all kinds of tasty sweets. One night of indulgence won't hurt anybody. If your group of friends includes several good cooks, you could host a typical potluck, or you could hop from house to house to make it feel more like a food crawl.
For a bachelorette party that's a little more out-of-the-box, hitch a ride on a dinner cruise. She'll get to glimpse beautiful sights, lounge on the water and treat herself to buffet-style dining. If coating everything in melted chocolate or hot cheese is her thing, have a fondue night — or, if she wants something lovely and refined, host a tea party. Though it takes a bit more effort, you could sign up for a cooking class. Then everyone will get the chance to whip up their own culinary masterpiece.
And don't forget about the alcohol! Depending on her beverage of choice, you could go champagne tasting, take a cocktail class, stop by a draft beer festival or embark on a winery tour. Line up your designated drivers beforehand — especially for the bride, so she won't have to worry about her consumption and will have the opportunity to cut loose for a while.
For the Nostalgic Girl
Momentous occasions such as weddings often prompt reminiscence and reflection. As we said before, they're sort of like the end of an era. If the bride-to-be is constantly checking her Facebook memories or wanting to chat about wild nights and inside jokes, she'll undoubtedly appreciate a bachelorette party that's heavy on the nostalgia.

The question is how far back in time you're willing to travel. Sometimes, it's fun to revisit your childhood with an old-fashioned slumber party, giving each other makeovers and donning your favorite onesie pajamas. You could watch the Disney films she wore out on VHS and dress up like princesses, or you could queue up more contemporary movies like "Tangled" or "Brave." If a Lisa Frank or Barbie party is right up her alley, complete with dolls or stickers as favors, there's no shame in that, either.
Fast-forward to high school with a good-natured game of Truth or Dare. Don't try to humiliate anyone, particularly the guest of honor — keep everything friendly and above-the-belt. Have a TV or movie marathon that hits all the classics, with plenty of popcorn and tissues on hand. Game nights are always a blast, no matter how you define them. It could be shelling out quarters in an arcade, roughhousing in bumper cars, competing at mini golf or sitting around a Scrabble board.
If it won't make anyone upset and spoil the evening, invite those in attendance to bring along souvenirs from previous relationships. You can pass them around and have a good cry, or burn them ceremoniously to usher in new beginnings. A more lighthearted take on this idea would be playing a game of Charades where members of the group act out each other's ex-partners. Capturing quirky mannerisms and transforming negatives into humor will surely have everyone in stitches.
For the Active and Adventurous Girl
In every group, there's typically at least one girl who is sporty or fiercely competitive. She'll gladly join the women's volleyball team in her community or challenge you to arm wrestling. If this sounds like your bride-to-be, here are a few ideas that are sure to excite her.

A bachelorette party scavenger hunt is always a great choice. The scale could be however large or small you want — anywhere from the size of someone's house to the entire town. Some malls will allow you to play around in them, as well. In a similar vein, you could devise Olympic games for everyone to participate in and present medals to the winners, or you could get the groom and his friends in on the action for a "boys vs. girls" game night.
Most weddings take place during the warmer months, so that gives you loads of outdoor options. Take a dip in the pool and lounge around in the afternoon sun, or spend a day at the beach with drinks and food you can cook on the grill. If you're really feeling ambitious, you can book a surfing instructor for the invitees! Going camping or taking a hike will bring you closer to nature. There's also zip lining, bungee jumping, trapeze lessons and skydiving, which work especially well if you have a group full of daredevils!
When everyone has a fairly open schedule, that introduces even more possibilities. You could rent a boat, ride in a hot air balloon, snag tickets for a local sporting event or run a marathon. An entire weekend at your fingertips lends itself to planning a legendary road trip, whether it's to Las Vegas, a ski resort or a short wellness retreat.
For this girl, the ideas you can come up with are seemingly endless. If she needs to let off some steam from wedding planning stress, take her to a shooting range — or, if she wants to get her Zen on, sign the group up for a yoga class. After all, workout classes have become the latest trend in bachelorette parties. You could have a picnic, occupy a few lanes in bowling or go paintballing. We have a feeling this bride will be up for anything.
For the Girl Who Loves Themed Parties
Arguably, all of the ideas we've mentioned so far could be considered themed parties, but now we're talking about the girl who loved throwing birthday bashes, Halloween parties and other topical social gatherings growing up. Chances are she's the kind of person who updates you on her most recent obsession every month, so why not take advantage of that knowledge and plan a party around it?

A retro theme is an easy win. Maybe she finally saw "The Great Gatsby" and she wants to revisit the roaring '20s, or maybe she's coming down with serious disco fever. Draw inspiration for decorations, food, drinks and favors for anywhere from medieval times to the 1980s by searching online.
Make the bachelorette party match her personality. If she's interested in romance and intrigue, go high-class with a masquerade ball. If she's more on the silly side, she'll get a kick out of dressing up in costumes or trying on wigs. You could cover everything in animal print, strive for Hollywood vibes, pretend you're in an old western or attempt to emulate Marilyn Monroe. It all depends on what you think will make her eyes light up when she walks in the room.
Murder mystery dinners have been experiencing a resurgence. You could limit the participants to your group of friends or hire an improvisational theatre troupe, but either way, you get to enjoy delicious food while puzzling out who the killer is.

So you've decided on the perfect theme, venue or excursion for your friend. Now it's time to hammer out the details. Keep these things in mind in the midst of your planning:
Take care of everything yourself — As one of the bride's closest friends, it's your job to coordinate every aspect of her bachelorette party so she has one less thing on her plate. Remember, this is supposed to be a night dedicated to her, so don't make her work for it! And don't let her pay for anything, either. Between you and the rest of your crew, you can cover it.
Consult the bride-to-be about the guest list — This is the only part of the planning she should be involved in. Whether she wants an intimate evening or a fling with all of her friends, it's her choice to make. This also prevents any awkward situations, such as inviting extended family she rarely sees or divulging the details to a girl she isn't on speaking terms with.
Create customized invitations — Make them cute and clever, and be sure to hint at the theme of the party through their design.
Make any reservations early — This way, you'll avoid a disastrous occurrence like too few spots in an exercise class or not enough seats at a restaurant.
Matching outfits are okay — Don't worry about being cheesy or out-of-style. Everyone wearing the same color dress or message t-shirts not only shows that you came together, but also that you're proud to be associated with the bride.
Skype with long-distance friends — When the party is confined to someone's house, that gives you the opportunity to video chat with out-of-town acquaintances or relatives that couldn't attend in person.
Drink responsibly — As we mentioned before, safety is key. Agree on designated drivers beforehand, or arrange outside transportation so no one feels left out.
Distribute functional party favors — Come up with favors that the guests will actually use, rather than a pretty-but-pointless knick knack that will sit around and collect dust. If you really want to be an overachiever, you can buy or make something that fits in with the theme of the occasion. For instance, you could personalize wine glasses to be used at a wine tasting, or make mixed CDs for a throwback party with memorable tunes.
Create a special keepsake for the bride — Don't hand her another standard party favor. Put together something original and heartfelt, like a book packed with inside jokes, words of wisdom, recipes or snapshots from years gone by.
Every bride-to-be is different. Some ladies would love to have their fortune told, or spend an evening at the casino, while others would find browsing a museum or attending a drag show to be a worthwhile adventure. A private shopping spree is appealing to a certain kind of person, and yelling out answers at trivia night will thrill someone else. There's no cookie-cutter way to throw a bachelorette party.

However, the one thing that these parties have in common is a need for transportation. It's understandable that no one would want to miss out on champagne tasting or skip ordering their favorite drink with their meal, but they also don't want to put their best friends at risk. That's where Premiere #1 Limo comes in. We offer specialized bachelorette party packages that will get you to your destination quickly, safely, and in style. If you love the idea of being chauffeured around like a celebrity, request a reservation today!