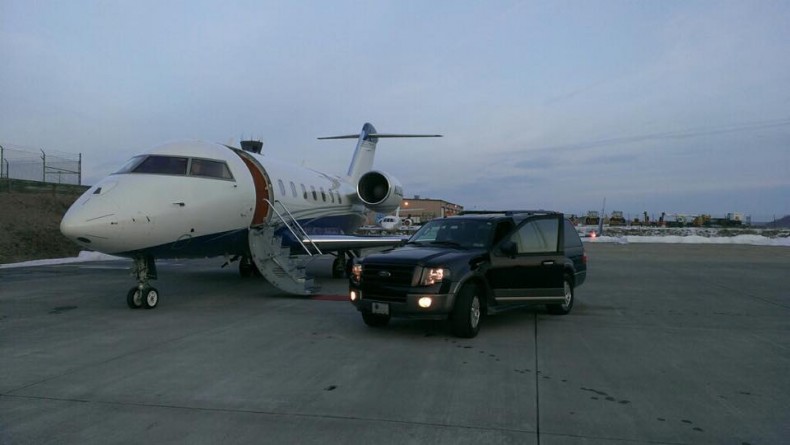 Luxury Airport Transportation For Harrisburg, PA and Surrounding Area Residents & Visitors
In need of a Harrisburg airport shuttle? Why not travel in style? When it comes to saving time & energy without compromising on comfort or style, nothing can match Premiere #1 Limousine's service. Experience the ultimate in dependability, convenience, and efficiency with Premiere's fixed-rate Airport Transportation. Harrisburg, PA travelers are received upon arrival by Premiere's courteous chauffeurs who help with luggage retrieval and escort them to their vehicle.
All the chauffeurs working with Premiere are trained in customer service and safe driving techniques along with being familiar with local areas, including airports. Thoroughly professional, our chauffeurs don't mind going the extra mile to ensure a comfortable and safe ride for our clients.
Our chauffeurs constantly maintain contact with the Dispatch Department. You can sit back and relax knowing your vehicle is right where you want it and will be there the moment you need it.
Our Dispatch System uses real-time flight tracking through FAA integration to ensure that when your flight arrives early your chauffeured vehicle does, too.
As with all our chauffeured car service, Lancaster, PA and surrounding area residents can choose from our wide selection of vehicles.
When dependability, convenience and professionalism matter, choose our airport car and limo service. With Premiere #1 Limousine, you'll always ride in comfort and security.
Ready to discover a better way to travel? Book our airport limo, car or van service today online. Or, get a quote using our quick reservation form.
AIRPORT LIMO SERVICE
Hiring a limo service from Premiere #1 Limousine isn't just a luxurious way to travel to and from the airports we serve. It's also a practical way to make sure you have a worry-free, relaxing way to get to your destination in the Harrisburg area.
Each of our limousines has all the amenities you expect for smooth, private traveling. After being in the air and navigating airports for hours, you'll enjoy knowing that your professional chauffeur has everything under control.
Traveling with clients? Impress them by arranging to have Premiere #1 Limousine meet you upon arrival. Our highly trained drivers are punctual and professional, and they're ready to treat you and your guests like royalty. Never underestimate the lasting impression of showing your clients that you've thought of everything.
Forget about the price fluctuations, questionable driving skills and delays that can come with hiring taxi services and Ubers. When you want dependability and luxury, choose a trusted airport limo service.
AIRPORT VAN SERVICE
When you have a large group traveling by plane, you want a smooth, stress-free way to get to your hotel or other location. At Premiere #1 Limousine, we serve a variety of airports in and around Harrisburg. You can trust our airport van service drivers to be ready to go as soon as you arrive.
What types of groups can use our airport van service?
Families and friends traveling together
Business colleagues and clients
School, college, semi-professional and professional sports players
Religious groups
Wedding parties
Our fleet of exceptional vans include vehicles that can accommodate up to 14 passengers with or without luggage. All of our van models are cleaned thoroughly before and after use to ensure a spotless, sanitized exterior and interior.
Enjoy amenities including spacious seating arrangements and room to spread out. Our drivers know the safest routes to take you wherever you need to go in and around the Harrisburg region. Plus, you'll enjoy fixed pricing so you always know you're receiving the highest value from your choice of airport travel service.
AIRPORT CAR SERVICE
Thinking of taking a taxi or trying to use a ride-hailing service? Consider choosing an airport car service with Premiere #1 Limousine instead.
Our airport car service allows you to kick back and relax. Your professional, personal driver will meet you at the airport when your plane lands. The driver will then escort you to your private car so you can start the rest of your journey.
Each of the cars in our fleet is second-to-none in terms of features and perks. You'll feel cushioned and pampered from the moment you get in. And you'll never have to stress again about figuring out how to get from the airport to your home, office, hotel or other destination. You can even continue working while you're in the car because you won't be behind the wheel.
At Premiere #1 Limousine, our ultimate goal is your ultimate comfort and luxury. Contact our team today to book our airport car service for you, or for you and up to three traveling companions.

Airports Served:
Book airport transportation, Harrisburg, PA, York, Lancaster, and visiting travelers from all over can rely on Premiere #1 Limousine of Middletown, PA.
Request Additional Information