A Growing Business: How Customer Service and Quality Care Helped Premiere #1 Limousine Service Blossom
Premiere #1 Limousine Service takes pride in its work. Whether it's transporting a business professional to and from the airport or taking a group of friends on a local winery tour, Premiere #1 Limousine Service pays the utmost care and attention to each person and each trip.
It's that vision of great customer service and renowned care that's helped our business become the best luxury car rental of Central PA. Since 2009, Premiere #1 Limousine Service has grown to cater to more people through more services than ever before. Join us as we look back on what we've accomplished and the programs that have made us the best limousine service of Central PA.
A New Vision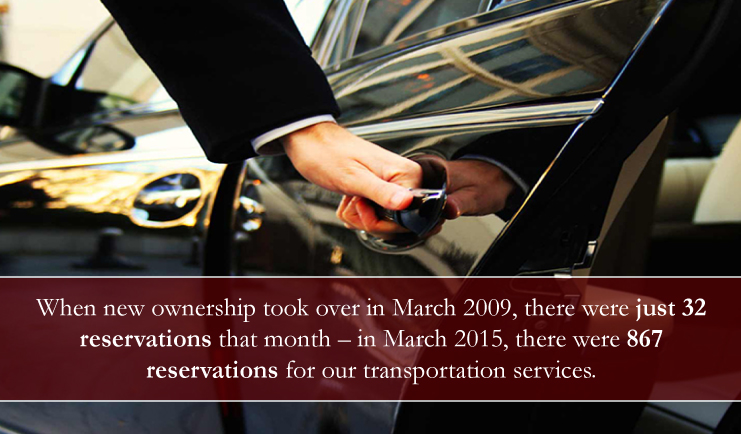 Premiere #1 Limousine Service really started to grow in 2009 thanks to a new owner and new management team. A revamped vision that focused on providing a unique experience for each customer started to set us apart. When new ownership took over in March 2009, there were just 32 reservations that month – in March 2018, there were 1100 reservations for our transportation services.
That kind of success doesn't happen right away. It took years of consistent, hard work to make us Harrisburg's top limousine rental company. Our growth can be seen not only in the amount of cars and limousines that run through our service, but also in the unique services we offer our clients. At Premiere #1 Limousine Service, we want to be Harrisburg's best car service company.
One-Of-A-Kind Services
Part of our success can be attributed to the services we offer at Premiere #1 Limousine Service. While we cater to traditional car service needs, such as transporting business clients or picking up couples on their wedding day, we also looked for opportunities that allowed us to offer something different. Whether you need to get to a business meeting in style or you want to relax and take a luxurious spa getaway, we can provide the transportation that will get you to your destination safely and on time. Here are just a few other examples of what we can do:
Corporate services
Don't worry about leaving your car unattended at the airport or stress about fighting for a parking spot at the next convention. We're known for Harrisburg's top limousine rentals because we get our clients where they're going so they can focus on more important things.
With Premiere's fixed-rate airport transportation, you're met by our courteous chauffeurs who help with baggage and escort you directly to your vehicle. Our real-time flight tracking means we know exactly when your airplane will arrive so you don't waste a single moment waiting around.
If your business is hosting a convention and you want to make a big impression on your guests, add Premiere's superior shuttle and transportation service to get guests to and from the airport, hotel or on a trip around the countryside.

In 2018, Premiere #1 Limousine Service made 9,575 airport arrival and departure trips, and 1,525 of those were to and from Harrisburg International Airport. While our business has grown, we still provide the same quality service and personalized experience we've managed to give our clients since the beginning.
Personal transportation service
Nothing says luxury quite like a limousine. That's why weddings, birthdays and other special events are such a popular option for limousine rentals when it comes to commemorating these big moments. Whether you're looking for the best limousine service in Central PA for your wedding, prom or anniversary, we have the romantic rides you've dreamed of.
In 2018 alone, Premiere #1 Limousine Service provided transportation for 745 weddings. So whether you want a cushy limousine for the wedding party, a party bus for the whole family or comfortable, clean transportation for your out-of-town hotel guests, we have can provide custom services to ensure your big day goes off without a hitch. Our one-of-a-kind wedding, prom and big event offerings have made us the best for luxury car rentals in Central PA. Just ask the couples who voted for us seven years in a row on the WeddingWire's Couples' Choice Award and The Knot Best of Weddings.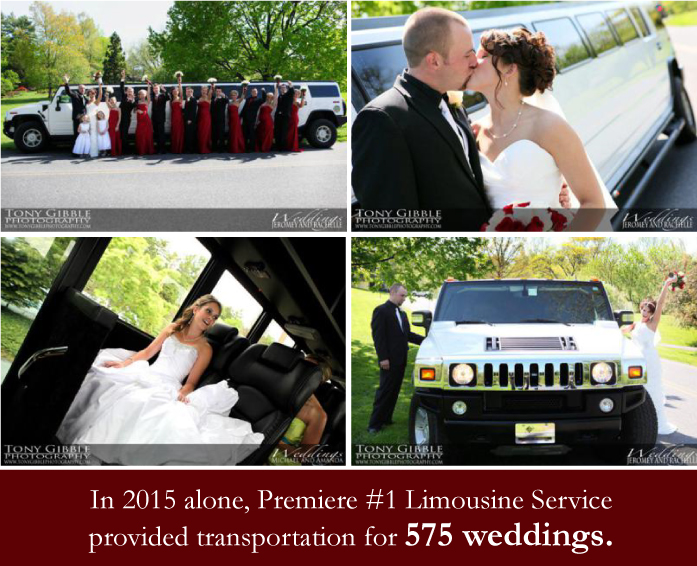 Special event transportation
Central PA has a great social experience to offer through its craft beer and wine tours. Make a day out of these fun events by booking your ride with the limousine service voted Harrisburg Magazine's Readers' Choice five years in a row. Our quality limo service and wine bus tour package means you can visit area wineries from the comfort and safety of one of our vehicles.
These customized trips have been a great addition to Premiere #1 Limousine Service's offerings. We organized in 300 wine tours with more than 2,750 guests in 2015. About 250 of those who participated in the tours used our transportation services to stay at overnight accommodations, making the trip a truly memorable experience.
Whether you want to stick to the Hershey Wine Tour Getaway or travel to the York Wine Tour Getaway, we can take care of everything from your transportation to an overnight hotel stay, souvenir items and even your lunch. If a brewery tour sounds more like your style, our Harrisburg Beer Tour offers the same accommodations but with the malty, hoppy brew samples your palate craves.
Another experience Premiere #1 Limousine Service offers is its Paintball Party. Whether you're embracing the adventure as a paintball novice or you hope to introduce a group of friends to the game, we make it easy to make the fun of paintball even more epic.
Our unique, custom excursions are just some of the services that have helped Premiere #1 Limousine Service grow over the years.
There are also plenty of fun activities you might have never thought of. Why not start your next party with one of our Premiere #1 Limousine Service scavenger hunts? Rent a few luxury vehicles, divide into teams and race off with professional drivers who know how to get around town. Have your guests collect items, take photos at specific locations or make a pit stop and perform a task.
Everyone in the party has the goal to make it to the finish line first — but who will win? Let us help plan your scavenger hunt by providing fun stops and then wrapping the party up at a private location. We can even help suggest a fun and unique party destination for after the scavenger hunt.
Maybe you just want to escape the ordinary and plan a night on the town. Whether it's an evening alone with your significant other or a group night out, we can provide the transportation that gets everyone comfortably and safely to their destination.
Make dinner plans, devise a bar hopping excursion or take a trip to a big city with nothing to worry about except keeping up your energy for the night ahead. No matter what adventures you have in mind, Premiere #1 Limousine Service offers something that will take your night from ordinary to extraordinary.
Have an Idea? Let Us Know!
If you have an idea for a party or unique day trip and want to know how Premiere #1 Limousine Service can be part of your day, please let us know. We're excited to hear new ideas and create travel plans that fit the specific needs of each client. We also can help you figure out how to add on special packages or make the trip a surprise. We want to be the luxury car rental service you turn to time and time again.
A limousine or other luxury transportation vehicle doesn't only have to be reserved for once-in-a-lifetime experiences, either. Our affordable transportation options have become part of a regular tradition for many people. It's just one of the many ways we like to provide for our clients who are looking for something different — and we believe it's that type of service that has helped us succeed over the years.
A Priority for Luxury
Running a rental fleet of vehicles is no easy task. But we make sure each vehicle is thoroughly inspected and cared for, whether it's a limousine picking up a wedding party, a sedan getting cleaned for an airport pickup or a party bus getting ready to transport clients to a convention.

While we started with five vehicles in 2009, our fleet has grown to 47 vehicles, with another 56-passenger motorcoach expected to be added in 2016. No matter how big or small your party, where you're going, or what you plan to do when you get there, Premiere #1 Limousine Service has a vehicle that can meet your specific needs. It takes a lot to keep those engines running and interiors looking their best, but we believe keeping our fleet in tip-top shape is a priority.
In 2018, Premiere #1 Limousine Service went through 250 gallons of soap, 90 gallons of tire dressing, 40 gallons of detail spray and 932 cans of glass cleaner. Another 616 cans of Febreeze went into making our vehicles smell as fresh as can be. Under the hood, 1020 gallons of oil, 92,000 gallons of fuel and 710 gallons of windshield washer fluid kept things running smoothly.
All of these details are just a component that keeps Premiere #1 Limousine Service running as efficiently as every car in the fleet. We don't overlook a single detail when it comes to keeping our vehicles in top shape. We know that while good customer service and unique offerings keep clients coming back, we have to keep our fleet in its best condition if we can continue to offer the same quality service you've come to know and expect.
We also look for new ways to expand our fleet to meet the demands of our growing customer base. Not only have we added to our sedan, SUV and limousine offerings, but we make sure we can accommodate larger groups looking to catch a ride on our trolley, H2 Hummer limo or one of our luxury minibuses. Now you just have to choose which vehicle is right for you!
When you ride in a Premiere #1 Limousine Service vehicle, you can rest assured you're not only riding in style but that your safety, comfort and time are a priority to us. Our chauffeurs will do their best to make sure your needs are met, whether that means helping with luggage, making calls to your final destination or being on top of traffic and weather concerns that could alter your route.
By focusing on luxury, safety and great customer service, Premiere #1 Limousine Service has grown over the years to become one of the best for luxury car rentals in Central PA.
Continuing to Grow
Premiere #1 Limousine Service has come a long way to be the best car service in Harrisburg and beyond. Our awards speak to the commitment we have to continue to provide a quality service and grow so we can reach more customers.
We've been named Central Penn Business Journal's Top 50 Fastest Growing Companies two years in a row, and in 2015, we were a Business of the Year Finalist for companies with 51-100 employees. Harrisburg Regional Chamber & CREDC also named Premiere #1 Limousine a 2015 Small Business of the Year Finalist.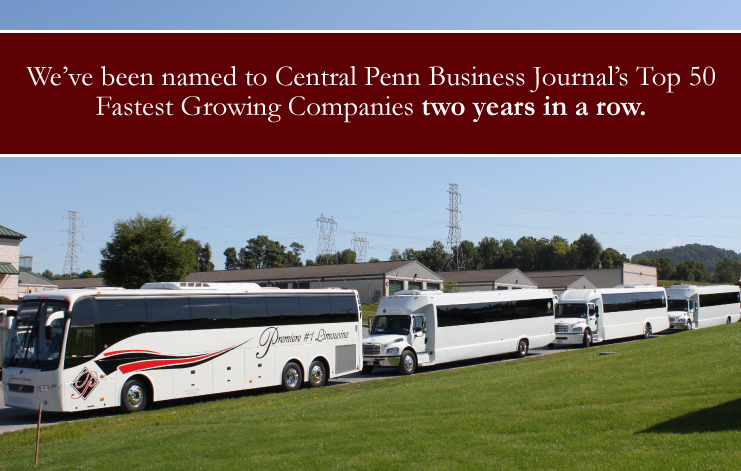 As we look to the future, we strive to meet the demands of our clients while providing a service that makes us worthy of being known as Harrisburg's top limousine rentals. We will continue to provide timely, quality transportation services for corporate and personal customers who want a comfortable, safe ride that gets them from one location to the next.
Our unique experience getaways also will remain a staple of Premiere #1 Limousine Service, as they've become a popular weekend or special occasion excursion for many of our faithful clients. Our custom services make us a great luxury car company as well, no matter what events you might have planned. If you have an idea for something but don't see it on our website, we're happy to work with you to provide a personalized experience for any celebration.
Since we revamped in 2009, Premiere #1 Limousine Service has grown to employ 73 people. Our reservations have increased by 860% and our revenue by 1,048%. We're also expanding our facilities by developing an additional four acres to grow our 32,000 square feet of garage and office space.
While we believe our customer service, quality vehicles and unique trip experiences have helped us become the best limousine service in Central PA, we know that a lot of thanks is owed to our faithful customers who come back to us year after year, no matter the occasion.
Premiere #1 Limousine Service has been there for so many of life's big events — from weddings to anniversaries, to reuniting with loved ones at the airport or bonding with friends over a wine tour. The experiences we've helped provide our customers make us feel like we're part of their family. And we hope we can extend the same care and attention to whatever your transportation needs might require.
Call Us Today
Whatever travel needs you might have, we're ready to create a personalized experience for you. Contact us today to find out how Premiere #1 Limousine Service can get you to your next destination — in luxurious style.