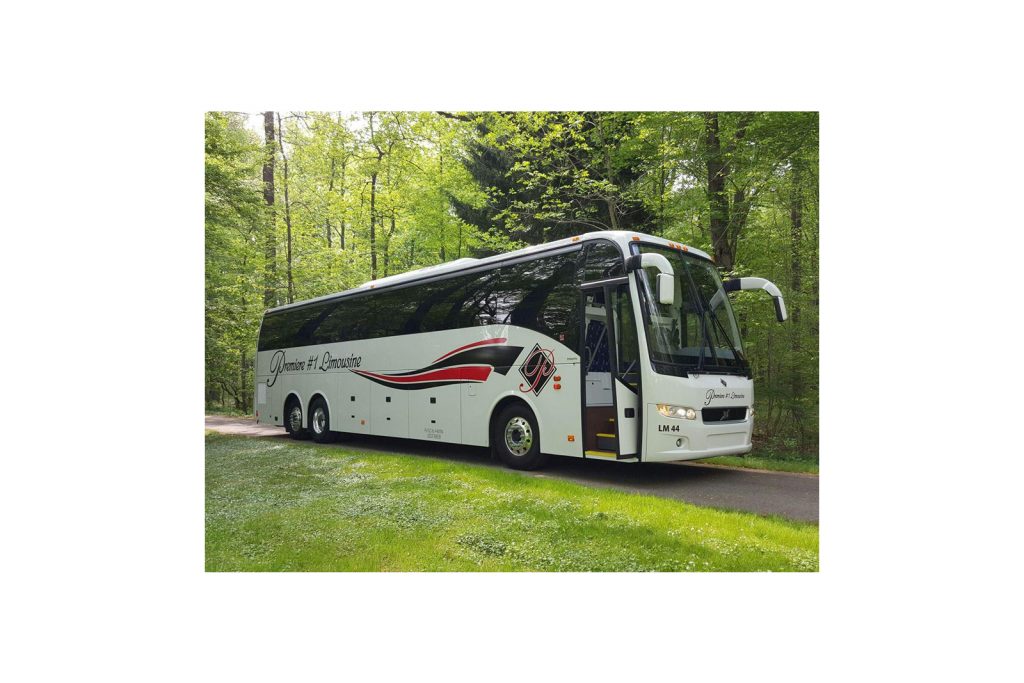 Are you putting together an excursion for a large group that requires transportation? If so, you're probably looking for the best motorcoach rentals in PA. And that's what you get when you make a reservation with Premiere #1 Limousine Service — the best available.
Our chauffeurs are highly-trained professionals dedicated to making your experience as enjoyable as possible. From the moment you book a charter bus with us, you'll experience outstanding customer service that our drivers carry with them in the field, as well. Our chauffeurs are intimately familiar with the roads they drive, which helps to ensure you arrive at your destination on time. Our drivers are our employees, which increases their commitment to providing the best customer service possible at all times.
Why Book With Premiere #1 Motorcoach Transportation Services?
At Premiere #1, we offer competitive prices and an easy reservation-making process. Our representatives are always available to help you make a reservation or address any concerns you may have quickly. We provide free quotes over the phone and online, so you'll never be surprised by hidden fees.
Our vehicles are the most luxurious, attractive motorcoach rentals in Harrisburg, PA, and surrounding area. Our motorcoaches are clean, nice-looking, comfortable, roomy and safe. In fact, our motorcoaches are so welcoming that the ride will feel like an event in and of itself!
Our versatile fleet of vehicles includes motorcoaches that can accommodate groups of just about any size. Whether you're looking for an automobile to fit 12 passengers comfortably, or if your group is four times bigger — or more — we have a luxurious motorcoach everyone will be comfortable in.
Our Lineup of the Best Motorcoach Rentals in PA
We have vehicles made by some of the most respected manufacturers in the world in our fleet, including Ford, Volvo, Lincoln, Hummer, Cadillac and Chrysler. In recent weeks, we added new motorcoaches to our ever-expanding fleet — one of our latest additions is the Volvo 9700.
We're thrilled the Volvo 9700 is part of our new motorcoach lineup. Of course, we're equally happy about the other nice-looking premium motorcoaches in our fleet of vehicles. But, two of the best motorcoaches you can rent from Premiere #1 Limousine Service are the Volvo 9700 and the Van Hool Motorcoach.
Volvo 9700
The Volvo 9700 boasts a 56-passenger seat layout. The armrests between the comfortable seats are foldable to maximize comfort. You'll find convenient grab handles and cup holders on the back of the seats, as well as a folding tray table and magazine pocket. Each seat even has its own 110-volt outlet to keep everyone's mobile devices charged and ready to document a night of fun.
The Volvo 9700 has an ADA-compliant wheelchair lift, making the motorcoach easily accessible to people with physical limitations. Like every vehicle produced by the Volvo brand, the Volvo 9700 is an incredibly safe automobile. The motorcoach even has rear parking sensors, which make pulling into a tight parking space a safe endeavor. The passenger side windows also have blinds to keep the sun out.
This vehicle has plenty of storage space for everyone's gear — its underfloor storage compartment has 400 cubic feet of space. The storage space is linoleum-carpeted to provide even greater protection for passengers' luggage.
Van Hool Motorcoach
Van Hool has long been known for producing the right motorcoach for every group and destination, and that's certainly the case for the Van Hool motorcoaches that are part of our fleet.
If you want to arrive at your destination in comfort and style, you can't go wrong with a Van Hool motorcoach. Like the Volvo 9700, a Van Hool motorcoach boasts comfortable seats, amenities such as a bathroom, in-vehicle displays, ample storage and a smooth, enjoyable ride you won't want to end.