"2013 Partner In Tourism Platinum Award"
Harrisburg, PA – The Hershey Harrisburg Regional Visitors Bureau (HHRVB) held its annual Meet the Partners & Tourism Awards Event on Thursday, April 3, 2014 at the Hollywood Casino at Penn National Race Course. Approximately 70 Partners attended the annual event that celebrates the start of prime tourism season in Pennsylvania's Hershey Harrisburg Region and provides members of the official destination marketing organization with an opportunity to meet new Partners and network with their peers and counterparts in the regional tourism industry.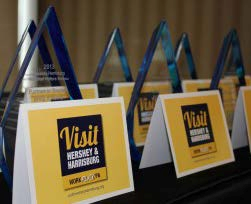 The HHRVB presented eleven (11) awards to Partners, including the "HHRVB Partner In Tourism – V.I.P Award." This special award was presented to Jonathan Snavely, Business Development Manager at Premiere #1 Limousine Service. Jonathan was recognized for being highly active and engaged in bureau initiatives, events, and programs. This award also recognizes his regular participation on the bureau's social media channels, attend (And host) Partner networking events and professional development seminars, invest in cooperative advertising campaigns, volunteer to work at bureau-sponsored booths or exhibits, comp visiting media and assist with sales familiarization tours and client visits.
"This was an evening to welcome our new Partners and kick-off the travel season ahead," said Justin Martsolf, HHRVB Director of Partnership. "But we also use the night to recognize a select group of individuals, regional businesses, state and national organizations and tourism stakeholders for their outstanding efforts and noteworthy accomplishments from the previous year as our Partners in tourism."
###