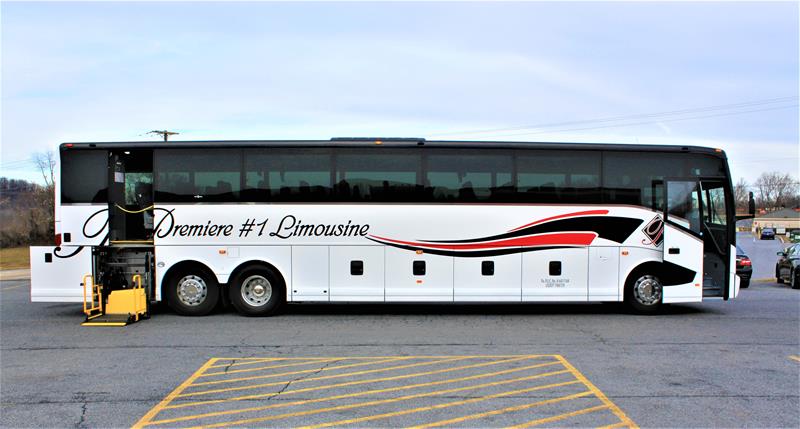 Middletown, PA – Premiere #1 Limousine Service adds its first handicap-accessible, 56-passenger motorcoach to its fleet.
The motorcoach is a 2016 Van Hool CX45. Equipped with a wheelchair lift, the bus can accommodate two wheelchairs at one time.
The Van Hool was purchased from ABC Companies in Camden, New Jersey. This is the third 56-passenger motorcoach to be added to Premiere's fleet, joining the two previously purchased Volvo 9700 models. All three motorcoaches were added to the fleet within an 18-month span.
"When we added the first two motorcoaches, we were striving to meet the demands of our clients and the region," explains Douglas Rydbom, Sr. Member of Premiere. "The addition of this motorcoach was for the same purpose – accommodating all of our clients and making sure that we provide transportation to anyone in need."
Passengers of the new handicap-accessible motorcoach will still receive chauffeur-driven services, as do all other vehicles in the fleet.
"We are happy to have a handicap-accessible motorcoach and still be able to provide the same professionalism with our chauffeured services and email updates for each reservation," says Rydbom. "We want to spread the word about this new addition to our fleet so that we can service those who need it."
###
About Us
Premiere #1 Limousine Service has provided luxury transportation services in Central PA for 15 years. In March 2009, a new owner acquired the business and has since expanded the fleet to include S and E class Mercedes, SUVs, passenger vans, corporate limousines, minibuses and luxury motorcoaches. With a combined total of 30+ years in the transportation industry, the principals have a highly capable and experienced management team in place. Our discerning, upscale clients demand safety, quality, and exceptional value, which we consistently deliver. For more information, go to Premiere1Limousine.com, or call (717) 616-8995.