This Cinco de Mayo
Harrisburg Police Cracking Down on Drunk Driving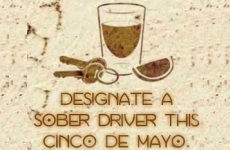 Harrisburg, PA – Cinco de Mayo in the United States has become synonymous not only with tacos, sombreros, and piñatas, but also with margaritas, tequila, and beer. With alcohol such a big part of many people's Cinco de Mayo festivities, it's no surprise that drunk driving is especially high on May 5th. From 2008 to 2012, 233 people were killed in drunk driving crashes on Cinco de Mayo (6 p.m. May 4th to 5:59 a.m. May 6th). In 2012, almost half (45%) of all traffic crash fatalities on Cinco de Mayo involved drunk driving. That tells us that people aren't planning ahead. So [local organization] is joining with others across the state and nation to remind partygoers that drunk driving should never be part of your Cinco de Mayo plans.
Every 51 minutes in 2012, someone was killed in a drunk driving crash in the United States, and 89 of those fatalities were around Cinco de Mayo. In fact, from 2011 to 2012, the number of people killed in drunk driving crashes on Cinco de Mayo more than doubled. In all fatal crashes in 2012, seventy-one percent of the drunk drivers involved had blood alcohol concentrations (BAC) of .15 or higher—almost twice the legal limit.
Preventing drunk driving is as easy as uno, dos, tres:
1) Plan your ride ahead of time:
Designate your sober driver before the fiesta begins; you might even consider paying for their food and non-alcoholic drinks; or
Call a friend or taxi, or use public transportation; or
Use Premiere #1 Limousine Service to get home.
2) If you see a drunk driver on the road, contact local police. You could save a life.
3) If you know people who are about to drive or ride while impaired, take their keys and help them make other arrangements to get to where they are going safely.
Remember, drunk driving is never the answer, and there's always another option. If you are going to drink at all on Cinco de Mayo, designate a sober driver, because Buzzed Driving Is Drunk Driving.
Call 717-616-8995 or email info@premiere1limousine.com for pricing and availability.