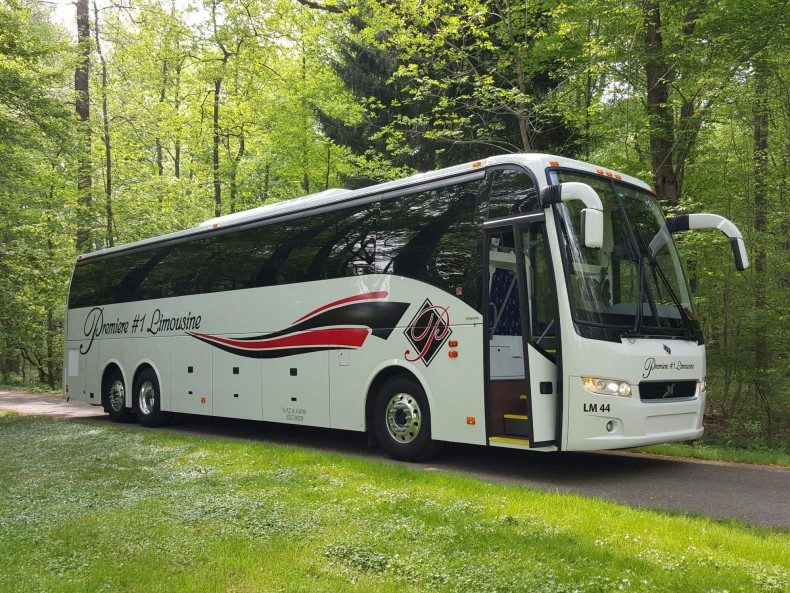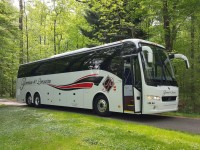 Premiere #1 Limousine Service Adds 56 Passenger Motorcoach
Middletown, PA June 10, 2015 – Premiere #1 Limousine Service recently purchased their first 56 passenger motorcoach, which brings Premiere's fleet of sedans, limousines, SUVs, mini-buses, motorcoaches, and party buses to more than 45 vehicles.
"Over the last 2 years, Premiere #1 Limousine Service added five 40 and 48 passenger mini-buses.  These mini-buses have been great additions, but they have their limitations.  The addition of our first 56 passenger motorcoach was a natural progression" said Douglas Rydbom, Sr. Member of Premiere #1 Limousine Service.
The new 2015 model year Volvo 9700 motorcoach was bought from Prevost dealer David Schmidt in New Jersey.
Premiere #1 Limousine Service is located in a region that ranks fourth among 49 destination marketing areas in Pennsylvania for total visitor spending.  657 million of the total 2.33 billion in visitor spending is spent on transportation.
Rydbom says the demand for motorcoach transportation in the Hershey/Harrisburg region is strong.  "I experience the demand first-hand on a daily basis. I don't like having to turn away guests, but the supply in our fleet and our affiliate's fleet doesn't exist. We hope that by gradually adding additional motorcoaches, we can service this market adequately."
###
Premiere #1 Limousine Service has provided luxury transportation services in Central PA for 14 years. In March 2009, a new owner acquired the business and has since expanded the fleet to include S and E class Mercedes, SUVs, passenger vans, corporate limousines, minibuses and luxury motor coaches. With a combined total of 35+ years in the transportation industry, the principals have a highly capable and experienced management team in place. Our discerning, upscale clients demand safety, quality, and exceptional value, which we consistently deliver. For more info go to Premiere1Limousine.com, or call 717-616-8995.