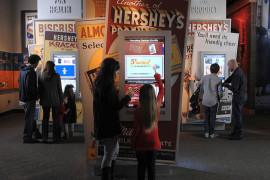 Private Hershey Tour
Hershey Pennsylvania is the "Sweetest Place on Earth" and if you don't have at least a bit of a sweet tooth, you might find yourself feeling out of place in this chocolate-loving town.
Indulge and have fun on a family-friendly private Hershey tour. Our staff has designed an itinerary to some of the most popular attractions in Hershey, including the Antique Auto Museum, The Hershey Story Museum, Chocolate World and Hershey Trolley Works history and chocolate tour.
$715.00* – What's Included?
5 Hours Transportation
Up to 8 passengers (smaller or larger groups, please call 717-616-8995 for pricing)
Antique Auto Museum Admission for 8
Hershey Story Admission for 8
Chocolate World Admission for 8
Hershey Trolley Works Admission for 8
*Price may increase, depending on initial pick and final drop off location.
Looking for a unique experience?  We can design a tour that includes activities, attractions, meals and lodging, with your interests in mind.
Request Additional Information