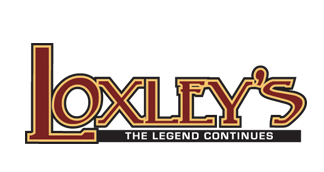 Loxley's Pub Fare
Classic Caesar
Chopped Romaine tossed with Caesar dressing, cherry tomatoes, Parmesan cheese, croutons and anchovies.
Cobb Salad
Mixed greens with crumbled bacon, bleu cheese, tomatoes, hardboiled egg and diced red onions topped with grilled chicken and avocado. Served with your choice of dressing.
Endless Soup & Salad Bar
Our fresh made salad bar offers a selection to satisfy any taste. Includes Soup of the Day.
Cheesesteak
Chopped beef or chicken with pepper jack cheese, grilled peppers, caramelized onions, lettuce and tomato. Served on a hoagie roll.
Carolina Pork Shoulder Sandwich                                                                                                                           Pulled pork from Organice Willow Acres of Mount Joy, smoked in-house. Topped with coleslaw and an over-easy egg on a brioche roll.
Chicken Alfredo Flatbread                                                                                                                                                  Topped with chicken, bacon, tomato, shredded Parmesan and arugula with a creamy Alfredo sauce.
Mediterranean Panini
Fresh mozzarella, oven dried tomatoes, portobello mushrooms, baby spinach, fresh basil and sun-dried tomato pesto. Served on a ciabatta roll.
Includes choice of refreshment: Pepsi products, coffee, or tea.
Request Additional Information