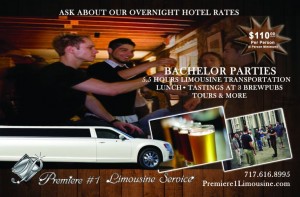 Fridays & Saturdays $880.00
Sunday – Thursday $795.00
(Additional fee if pick-up is outside the Harrisburg/Hershey area)
Looking for a great bachelor or bachelorette party idea? Relax and enjoy a trip visiting the Hershey/Harrisburg Region's finest microbreweries in a comfortable stretch limousine. All you need to do is sit back, relax, and let your taste buds go to work!

Premiere #1 Limousine's Beer Tour allows you to spend an afternoon or evening learning about craft brewing from some local experts.  Our tours include tastings at 3 microbreweries, behind the scenes tours, educational opportunities and lunch.

What's Included?
5.5 Hours Limousine Transportation
Up to 8 Passengers (Larger or smaller groups, please call for pricing)
Tasting Fees at 3 Brewpubs (choose 3 below)
Behind The Scenes Brewery Tour
Lunch at 1 Brewpub (Special Menus)
The Vineyard & Brewery at Hershey was founded on the philosophy that enjoying an artfully crafted wine or beer is meant to be a shared experience with family and friends. The Vineyard & Brewery at Hershey artfully crafts each bottle of beer and wine for the enjoyment of new and the most experienced of palates.  With over 20 varieties of unique wines and both flagship and seasonal craft brews, The Vineyard & Brewery at Hershey is the best of both worlds. We trust you will taste the difference, and may our creations inspire your happy hour conversations.
• Brewery Tours – Yes
• Tastings Included With Package – 3
• Lunch – Yes, Special Menu
Appalachian Brewing CO. (ABC) Harrisburg brewpub opened on May 14, 1997. Harrisburg's strong brewing tradition dates to the 1700's. At one time, Harrisburg produced most of the beer for the entire region. Prohibition forced most breweries out of business. ABC is proud to be Harrisburg's first brewery in 46 years. The drought is finally over with the return of fine brewing to Harrisburg.
•Brewery Tours – Yes
•Tastings Included With Package – 4
•Lunch – Yes, Special Menu
Bube's Brewery is the only one of the hundreds of "lager era" breweries that still stands in almost completely intact condition in the United States today. Restoration of the complex began in 1968 and continues today. Bube's Brewery is located within the original brewery's icehouse. The selection of Bube's handcrafted beers on draught changes frequently. Kolsch, Red Ale, Stout, Brown Ale, Heffweizen and India Pale Ale are some of Bube's favorites.
•Brewery Tours – Yes
•Tastings Included With Package – 5
•Lunch – Yes, Special Menu
JoBoy's is one of, if not the smallest nano-brewery in Pennsylvania. We hand brew in small batches, and brew nearly every day. While we make no claims to brewing the best beer you ever had; we can promise hand-crafted beer that focuses on quality and that pairs well with our barbeque.  No Matter if you're a certified beer geek, casual drinker, or this is your first experience with craft-brewed beer, we're confident that you'll find one that suits you, and perhaps even a few that open your mind to new styles.
•Brewery Tours – No
•Tastings Included With Package – 5
•Lunch – Yes, Special Menu
Tröegs Brewing Company was established in 1997. Today, the brewery produces six year-round and five seasonal beers including: HopBack Amber Ale, Troegenator Doublebock, DreamWeaver Wheat, Perpetual IPA, JavaHead Stout, Tröegs Pale Ale, Nugget Nectar, Dead Reckoning Porter, Sunshine Pils, The Mad Elf, and Flying Mouflan.
•Brewery Tours – Private for groups under 10, based on availability.  Self-guided available.
•Tastings Included With Package – Your Pick 3
•Lunch – No
Coming from out-of-town and need a place to stay? Our tour experts can customize any package to include lodging for you and your guests.
For More Information or to Make a Reservation: