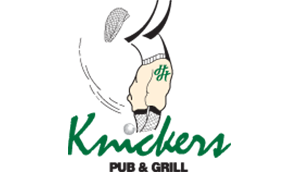 Knicker's Pub Fare
$12.50 per person (includes tax and gratuity)
Fresh Fruit and Greens
Fresh seasonal fruit and spring mix salad greens with fried prosciutto and toasted pine nuts, drizzled with a watermelon and basil vinaigrette.
Caesar Salad with Grilled Chicken
Fresh chopped Romaine tossed with Caesar dressing, Parmesan and croutons topped with grilled chicken.
Cobb Salad
Fresh seasonal greens topped with chicken, diced tomato, bacon, bleu cheese, hardboiled egg, red onion, cheddar cheese and avocado. Served with your choice of dressing.
Cuban Panini
Sliced smoked pork with smoked Virginia ham, Swiss cheese, pickles , tomatoes and whole grain Dijon mustard pressed in French bread.
Grilled Chicken Caprese
Marinated chicken with sliced tomato, basil, fresh mozzarella and pesto on a brioche roll.
Pub Burger
Your choice of American, cheddar, provolone, Swiss or pepper jack cheese on a brioche or pretzel roll. Served with lettuce, tomato and onion.
Philly Style Cheesesteak
Your choice of chopped beef steak or chicken with sauteed onions, red and green bell peppers and choice of American cheese or cheddar sauce.
Includes choice of refreshment: Pepsi products, coffee, or tea.
Request Additional Information